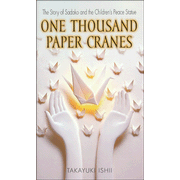 One Thousand Paper Cranes
By Takayuki Ishii / Random House, Inc

Twelve-year-old Sadako Sasaki died from the Atomic Bomb Disease ten years after the bomb was dropped on Hiroshima. As she grew ill, she was determined to fold 1,000 paper cranes, for the saying went if you folded them, your wish would come true. Her determination and courageous struggle with her illness marked her family and classmates, and after her death, they started a campaign to build the children's peace statue in memory of her and other child-victims. Even today, her statue is covered with thousands of paper cranes brought and sent by people around the world. 97 pages, softcover.