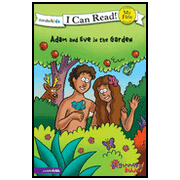 The Beginner's Bible: Adam and Eve in the Garden, My First I Can Read! (Shared Reading)
By Kelly Pulley / Zonderkidz

From the creation of day and night through Adam and Eve in the garden, emergent readers will learn the Bible's first story. Children can read the simple text by themselves--and enjoy the vibrant Beginner's Bible artwork.

Part of the I Can Read! series, this book is a great tool for beginning and developing readers. My First I Can Read! books have basic language, word repetition, and whimsical illustrations that are idea for sharing with an emergent reader. Recommended for ages 4 to 7.