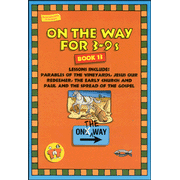 On The Way Book 13 For 3-9s
By Trevor Blundell / Christian Focus Public

"On the Way" works on a three year syllabus. It covers the main Bible stories from Genesis to the Acts of the Apostles. All the Bible stories are taught as truth and not myth. TnT believes that it is vital to teach children accurately from the Bible, being careful to teach each passage's true meaning in an appropriate way, rather than selecting a "children's message" from a Biblical passage.

Lessons in Book 13 include: Parables of the Vineyards, Jesus Our Redeemer, The Early Church and Paul and The Spread of the Gospel. Any version of the Bible can be used. Reproducible activities.