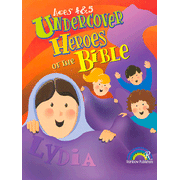 Undercover Heroes of the Bibles, Ages 4-5
By Rainbow Publishers

From Barnabas to Hezekiah to Lydia, these lessons will show your students that God uses a colorful cast of characters to further His plan. Every lesson includes a memory verse, Bible story, discussion questions and several crafts, games and puzzles to help kids relate to the message. Because each book is designed for a specific age level, you can be confident that the lessons will meet kids' interests and abilities. Expose the fullness of God's Word. Use Undercover Heroes of the Bible and help your kids discover that God's leaders are not a mystery.