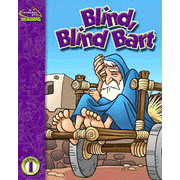 A Reason For Reading, Level I: Blind, Blind Bart
By A Beginning Advantage

Discover the key to reading success with values-based stories that make reading FUN! Little Books help teach kids powerful reading strategies that lead to success. NOTE: Levels in Reading reflect student ability, not grade level!

In Blind, Blind Bart Jesus heals the blind man, Bartimaeus. Level I. 8 pages.