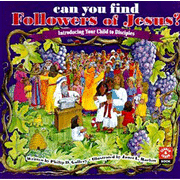 Can You Find Followers of Jesus?: Introducing Your Child to Disciples
By Philip Gallery / Franciscan Media

Can You Find Followers of Jesus? is the third book in the Search and Learn series for children. Filled with illustrations and hide-and-seek adventures, kids are introduced to disciples of Jesus from Creation through today. Disciples discovered are Abraham and Sarah, Mary the mother of Jesus, Paul the apostle, St. Francis of Assissi, Mother Teresa, and others. Illustrations by Janet L. Harlow.